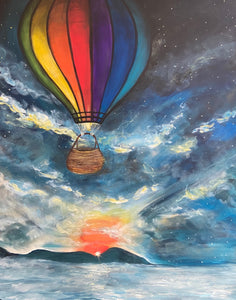 Second Saturday Art Walk on Monroe Feature at Atomic Threads!
Dec. 11 ArtWalk on Monroe
N. Monroe has an ArtWalk event on Dec. 11th 2021. All the venues will be open from 4pm – 7pm on Saturday.
To get into the spirit of things without taking ourselves too seriously, this month the venues will show off their interpretations of "Ugly Christmas Trees!"
The ArtWalk on Monroe is a new tradition to display art on the 2nd Saturday of each month at businesses along the N. Monroe Corridor. We have plenty of free parking, lots of eats and drinks, and fun shops to explore along the way. Come out and join us!
ATOMIC THREADS
Featured Artist: Robin M. Milligan
Robin M. Milligan enjoys the natural beauty of the world. "The ongoing drama of everyday life Colored in whimsy by my fingers and brushes The all powerful mundane! The electricity and tides of relationships The clashing of personalities The ongoing struggle for freedom and security And the battles fought within. Working against the pressures of social and self imposed expectations To get back to a place of joyfulness Hoping that nature is allowed to remain untouched and beautiful Even if that means letting the flaws shine. I have lived all over the west coast, settling in Spokane 2004. I focus my time with my children and in my studio creating. Spending as much in the sunshine and water as possible. Traveling the world to discover culture and see nature in all of its glory. Learning is my greatest passion." Robin_m_milligan@yahoo.com
https://robinmilligan.com/
facebook @robinmilliganart
instagram @robin_m_milligan
Atomic Threads is located at 1925 N. Monroe Suite A, Spokane, WA  99202
---